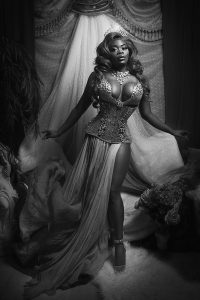 (Montreal, Nov 28, 2018)
Sensual event producer, Monde Osé, renowned for their fantastical multi sensorial dance parties and creators of the Burlesque Ball® and Le Bal Erotique®, will be handing over the reigns of these two popular events, to Montreal native, and Miss Viva Las Vegas 2018, Ms. Foxy Lexxi.
Foxy Lexxi, of Haitian descent, started her burlesque career in Montreal and on the stages of Monde Osé in 2012. Since then, Lexxi has risen to become a travelling powerhouse, wowing audiences on the road and recently capturing the coveted crown of Miss Viva Las Vegas, an international burlesque pageant. She is the first Canadian to do so.
Lexxi also became the producer of Les Folies Jartieres, a Quebec City quarterly Burlesque revue and co-producer of le Bal Burlesque, ville de Québec.
Frank Mondeose, Founder of Monde Osé, recently announced his exit from actively producing his infamous, sensually themed, erotically charged events. His focus has turned to the international stage as: sex educator.
"Lexxi is the perfect choice to take over the production of the Monde Osé inspired Burlesque Ball® and Bal Érotique®." says Frank Mondeose. "She grew up on our stages and lives our culture and lifestyle. She understands our clientele's needs, has devilishly good taste, and the experience in event management to unify her strengths, to continue the legacy I leave behind."
The Burlesque Ball® and Le Bal Erotique® will now be signed Foxy Lexxi, as she produces and directs these notorious events. She will continue using Monde Osé's successful formula and serving the Monde Osé community through these events.
"I could not be more proud to succeed Frank Mondeose. What an honour it is for me to take the reigns of these grand events that have influenced nightlife and entertainment in Montréal and in North America for over a decade." says Lexxi.
"For years I dreamt about being part of this family, and now, my greatest dreams are coming true! My mission is to make my city and mentor proud. Frank always believes in me, and I am honoured that he trusts me to take the show to a whole new level."
You can experience Foxy Lexxi's first Burlesque Ball on Friday March 8, 2019 at Le Bain Mathieu, when a new era in sensual entertainment is offered. Join us for the sensual and magnificent creative expression of our emerging Queen!
The whole family of Monde Osé is extremely excited about this transition. We are proud of Lexxi and are committed to her continued success, and that of the Burlesque Ball and Le Bal Érotique!
Get ready for a new generation of sexy nightlife events.